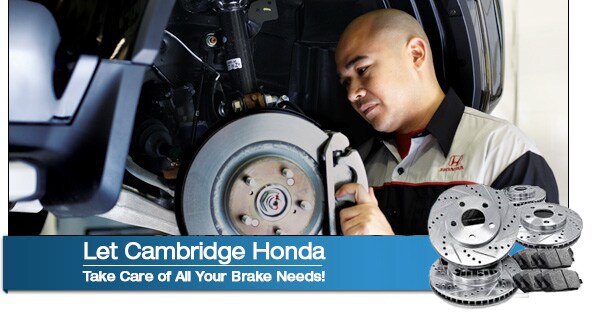 Schedule Brake Service
Brake Service at Cambridge Honda
Whether you're traveling to and from the city every day or navigating the winding New England roads, there's nothing more important to your safety than fully functional brakes. That's why we offer efficient, expert service at Cambridge Honda, where we make sure that Boston Honda drivers are prepared to stop on a dime and avoid any and all obstacles waiting for them on the road.
   
Why should Cambridge Honda be your choice for brake repairs?  

At Cambridge Honda, we know how important your time is to you, and with our experienced staff and extended hours, we get you back on the road ASAP.

We're conveniently located on Fresh Pond Parkway, which makes us a quick drive away for commuters from all over Greater Boston.       

At Cambridge Honda, we know your Honda better than anyone else! Don't settle for second-best when it comes to servicing your Honda.
     
How can you tell if you need to repair or replace your brakes? Here are some things to keep in mind:          
Check for a pulling or vibrating sensation when you apply the brakes. If you're having trouble braking in a straight line, you could have an issue with your calipers or brake hose. 
Listen for a squealing or grinding sound when you apply the brakes. This means your brakes are worn down and need to be replaced. 
Be attentive to how you drive. If you frequently commute in heavy traffic, you'll need to change your brakes sooner, since you use them more!
     
Schedule a service appointment online or swing by our Honda dealership in Cambridge, MA, today if you need to repair or replace your brake pads, calipers or brake fluid. Our customer service, competitive pricing and fast repair times give you an unmatched maintenance experience, and we can't wait to serve you!