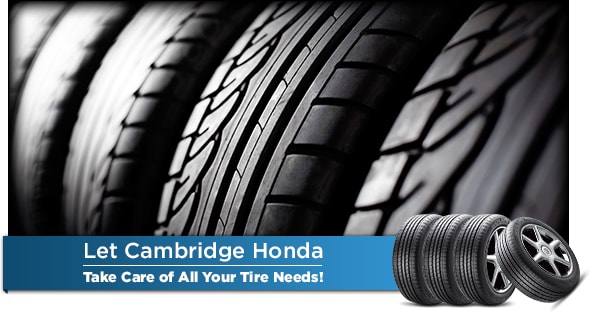 Schedule Tire Service
Tire Service at Cambridge Honda
If you want to stay safe when navigating the tough New England roads, you'll need to make sure you maintain and, if necessary, replace your tires. That's why we offer the friendliest, most efficient tire service around at Cambridge Honda, where we take pride in making sure Boston Honda fans are fully prepared to tackle anything the road throws at them.
Why choose Cambridge Honda for all of your tire needs?   

With our online service appointment tool, experienced staff and extended hours, we make your tire rotation or replacement as quick and painless as possible.    Our convenient location on Fresh Pond Parkway makes us accessible for all Greater Boston drivers.    No one knows your Honda better than the expert team of technicians at Cambridge Honda! We'll get you back on the road in no time.
How can you tell you might need a new set of tires?

Check to see if your tires are damaged (bulges, cracks, indentations, etc).   

Worn out from use/excessive mileage.   

Unsuited for current weather or road conditions.
Make a service appointment online or stop by our Honda dealership in Cambridge, MA, today if you need to rotate or replace your tires, and witness our competitive pricing and unparalleled customer commitment from the moment you walk in the door. We want to show you what sets us apart!